Condo Insurance – British Columbia
Whether you're in a high-rise building or a spacious loft, life happens in your condo, and we're here to protect it. This might be your first home-owner experience, or maybe you're downsizing from owning a house for years. No matter what led you to condo life, it's great for low maintenance and stress-free living so that you can focus on what's most important. Your condo is a significant investment in your life; let us help protect it.
As your local insurance experts for over 40 years, we know that each condo in BC is unique in its own way. From condos close to our headquarters in Surrey, to those in the heart of downtown Vancouver, and those tucked away in the beauty that is northern British Columbia, we've got you covered. With all it has to offer, it's not hard to understand why so many people call BC home. And with 100 locations across the province, there's sure to be a Westland location near you.
We understand it's vital to protect what's most important to you and your family. Our expert insurance advisors are here to ensure you're protected and provide peace of mind so you can focus on what's important in your life.
Why Choose Westland?
We know that your insurance needs to match your goals, your lifestyle and your budget. Our expert condo insurance advisors get to know you, so that they can tailor a policy to your exact needs.
We'll find the best coverage for you at the right price so that you can continue to live your life the way you want to.
Insurance can be complex sometimes. Let our expert insurance advisors do the heavy lifting! We'll help you find a policy that you feel is the best fit and provides peace of mind. To learn more about the benefits of being a Westland client, click here.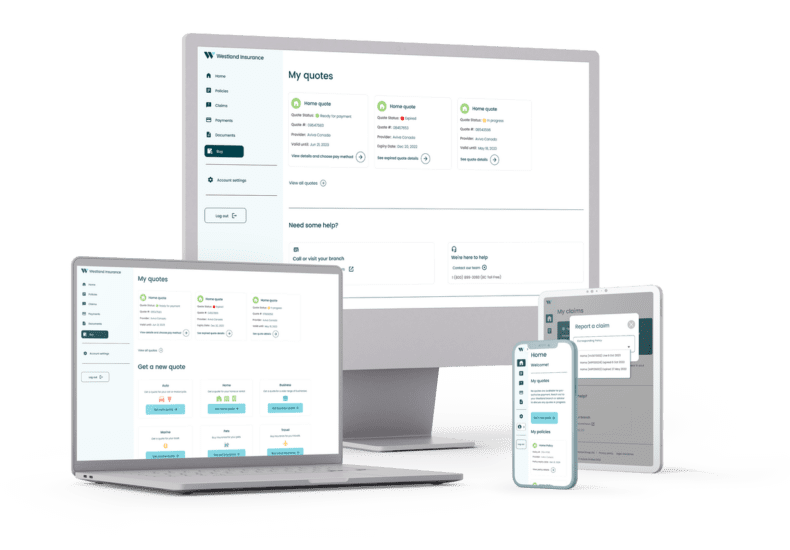 MyWestland makes accessing your information easy!
Easily access your policy information and manage your account
Report a claim and upload photos
Check your claims status anytime
View your policy details, including coverage and payment information
Easy online payment options (pay now or pay monthly)
Contact your advisor directly
Condo Insurance Explained
Condo insurance not only protects your own space but the shared spaces with your neighbours as well, from the special touches within your space to coverages that protect you even when you aren't at home. Condo corporations have insurance that generally covers the whole building in terms of the structure and common areas. Your condo policy provides coverage for your personal belongings and betterments or improvements you've made to your space.
That's just the beginning! We have access to all the best condo insurance products in Canada. No matter what protection you need, we're sure to have a solution for you!
Your belongings are more than just furniture collected over the years. It's electronics and clothing jewellery, and even sports equipment and musical instruments. including your storage locker in the building that houses belongings as well. You may be surprised that the value of your items adds up to more than you thought. If your personal property needs to be replaced due to a claim, you'll be glad you had the right coverage in place.
Whether you've been hard at work improving your space or have benefited from the previous owner's renovations, these investments need to be reflected in the value of your condo. Upgrades or improvements to the standard unit can include cabinets, lighting, flooring, countertops, etc.
This coverage is a crucial aspect of your condo policy. This protection covers yourself and any people who live in or visit your condo if you're sued, whether someone is hurt while in your condo or something unintentionally happens that causes damage. Suppose you're hosting guests and someone trips on your entryway rug. They suffer a broken arm and can sue you for medical expenses. Your liability coverage can step in to cover the costs.
Suppose your condo can't be occupied due to a related insurance claim; your condo insurance policy will cover living expenses during this time. The cost of alternative living arrangements will be covered, even extending to meals until you're back home.
If the condo corporation/association policy doesn't cover the total damage to common areas, this will cover your share. It can also respond if there are insufficient funds in the case of a lawsuit against the corporation/association.
How Much Does Condo Insurance Cost in BC?
| | |
| --- | --- |
| Condo Insurance Location | Monthly Price |
| Surrey | $41 |
| Langley | $38 |
| Canada | $32 |
Condo insurance rates will vary from one city or town to the next in British Columbia. Insurance companies will use rate tables to create the price for home insurance within territories based on experience ratings, exposure to risk, claims data, etc. Pulling from our experience in BC, we've put together examples of monthly condo insurance prices that we see most often. For a quote specific to your needs, connect with us today!
What Factors Determine the Cost of Condo Insurance?
There are so many types of condos, which means not all policies will cost the same. Aside from the type of policy and coverage that you choose, factors that affect your condo insurance price include:
Property Type
A high-rise condo compared to a bare land condo will each have different rates
Location
Postal codes provide insight into areas prone to flooding, vandalism, and other claims made
Upgrades and Improvements
Any improvements from the standard unit will need to be factored in
Claims History
There may be a discount applied if you've never had a claim
Building Construction
The materials used to build the structure as well as those specific to your unit
Review Your Insurance and Get a Quote with Westland
Ready to discuss your insurance needs? Our expert advisors are here to review your current insurance policies, discuss your unique needs, and find the perfect condo insurance policy for you. Whether it's over email, the phone or in person we are ready to help! To get started on a quote now and see price estimates for your condo coverage, click the button below. Our advisors will contact you right away and help navigate your risk management needs. Of course, we are always available to talk over the phone or in person. Check out our locations page to connect with an office closest to you!
Ways to Save on Condo Insurance in British Columbia
Mature Customer
Claims Free
Local or Monitored Alarm
Water Leak Detection Device
Company Loyalty
Optional Protection Available to Enhance Your Coverage
Based on where your condo is located as well as your lifestyle, there may be additional coverages available to you, such as:
Earthquake Coverage
Glass Breakage
Home Based Business
Watercraft
Claims Example
Water damage is the most common claim we see when it comes to condo ownership. Appliances can fail unexpectedly, such as a supply line, and cause flooding throughout your space. This can cause upwards of $10,000 worth of damage. The right condo insurance policy will help mitigate these risks and get you back to your normal as quickly as possible.
Our goal is to find the best coverage for you so that you can continue to live your life the way you want to. To learn more about being a Westland client, click here.
10 Fun Facts About BC
Vancouver Island is home to a waterfall that is eight times the height of Niagara Falls. The Della Falls waterfall can be found in Srathcona Provincial Park and is a whopping 440 metres in height.
Half of all British Columbians can be found in Vancouver and the surrounding area.
BC is home to the world's largest hockey stick ; how Canadian! You can find it in the city of Duncan and is 62,000 lbs and 62.48 metres long.
Whistler is known for its beautiful views and slopes. It also has the longest unsupported cable car system in the world. This cable connects the two peaks of the Whistler Blackcomb ski resort.
BC is one of the top three producers of blueberries and cranberries globally.
Meares Island is home to the Hanging Tree Garden , which is between 1,500 and 2,000 years old. It features some of the oldest Western Red Cedar trees.
You can find a quarter of all grizzly bears and black bears in BC.
Have you ever heard of bathtub racing? Nanaimo is the Bathtub Racing capital of the world, starting in 1967. To complete, you'll need to use a bathtub as a boat.
Lights, camera, action! BC is the fourth-largest television and film production centre in North America.
Wine country lives in BC. Each year BC vineyards welcome over one million visitors. Over 929 vineyards cover more than 10,260 acres of land.
Need some help?
Claims
We'll help you get back to normal as quickly as possible.
Claims
Contact Us
When you need us, we're here. Connect with us.
Contact Us
Visit Client Support
Check out our resources page for helpful content or connect with our client support team.
Contact Client Support