Transportation & logistics industry – 2024 outlook
Transportation & Logistics – business industry overview
The Canadian transportation & logistics industry consists of businesses that focus on transporting passengers and goods via all modes of transportation, warehousing and storing goods, and providing services to these establishments
Transportation & logistics businesses must adapt to emerging industry trends, like increased demand for same-day and last-mile delivery, e-commerce, advances in technology, and continued focus on sustainability and eco-friendliness
Due to the COVID-19 pandemic and our recovery since, which created wild swings in supply and demand, the impacts of climate change, and geopolitical uncertainty, the fluidity and efficiency of Canada's transportation supply chain has been significantly disrupted
Consumer demand for goods has increased dramatically and is trending this way through 2023, despite rising inflation
Transportation companies are passing on increased costs to their clients when possible
Insurance perspective: transportation and logistics companies:
Should be wary of new specialty programs designed to accommodate inexperienced drivers as they may not provide adequate coverage
Are being asked more frequently for certificates of insurance from companies like Amazon
Key challenges facing Canadian transportation & logistics businesses include rising fuel costs, carbon taxes, Federal emission reduction targets, labour shortages, infrastructure constraints, and trade uncertainty
Industry overview – Transportation & Logistics
Overview of the Canadian transportation & logistics industry
The transportation & logistics industry continues to help drive the Canadian economy forward, with businesses that focus on transporting passengers and goods (via all modes of transportation), warehousing and storing goods and providing services to these establishments.
Table 1 shows a breakdown of how transportation & logistics businesses are distributed across Canadian provinces and territories.
In 2021, 74% of employer establishments in the transportation & logistics industry were micro establishments (1-4 employees). Figure 1 shows a breakdown of how transportation & logistics businesses are distributed by size of operation, in terms of number of employees.
Industry performance and outlook – Transportation & Logistics
Pricing on for-hire motor carrier freight services continues to rise in Canadian transportation.
One of the biggest contributors to increased carrier freight services has been the incremental increases to the federal government's carbon tax plan. Fuel taxes have risen, compounding the price of fuel. However, demand for motor carrier freight services has also increased over the last few years. During the COVID-19 pandemic, there was a significant drop in demand for freight trucking services, as manufacturers and retailers reduced activity. However, as consumer spending rebounded coming out of the pandemic, demand for freight trucking services increased. In part, this has led to higher pricing in for-hire motor carrier freight services.
The chart below is indexed to 2013 (i.e., January 2013 = 100). From January 2013 to January 2021, freight trucking prices were relatively stable for local general freight trucking, long-distance general freight trucking, and specialized freight trucking, increasing by 14%, 17% and 1%, respectively, over an eight-year time horizon. Prices spiked from January 2021 and September 2022, with freight trucking prices increasing for local and long-distance general freight trucking, long-distance general freight trucking, and specialized freight trucking by 26%, 32% and 29%, respectively. This is a significant price increase over a less than two-year time horizon.
Figure 2: For-hire motor carrier freight services price index, monthly, September 2018 to September 2022, Canada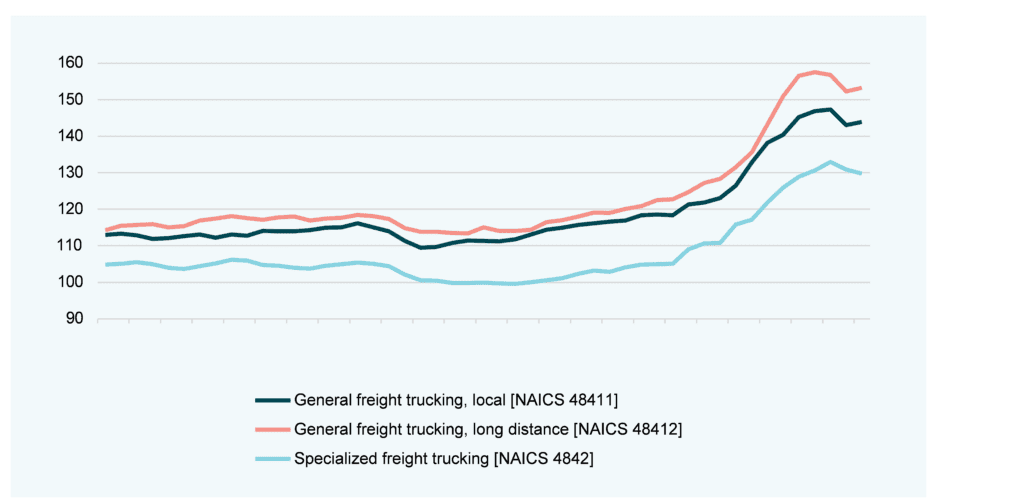 Rising fuel costs continue to increase truck transportation costs and erode margins
The price of freight services is also correlated with dramatic movement in diesel prices, as fuel expenses contribute the most to trucking transportation costs. If we look at eleven major cities across Canada, diesel prices per litre increased 44% from 136.3 to 195.8 cents/litre between September 2021 and September 2022.
In that same year, freight trucking prices increased for local general freight trucking, long-distance general freight trucking, and specialized freight trucking by 22%, 25% and 24%, respectively. Ben Stiller, Westland's Director of Business Development in the Transportation sector, notes that "Fuel is the primary expense line item for transportation companies. With additional carbon taxes now being charged on fuel, along with increased demand for carrier freight services, operating margins for Canadian transportation companies continue to erode. Our clients have no choice but to charge more for their services, which is hard to do as competition between freight companies is strong."
Figure 3: Diesel fuel cost at self-service filling stations, cents per litre, Canada, September 2021 to 2022
International trade continues to help drive the Canadian transportation & logistics industry forward
International trade continues to help drive the Canadian economy, contributing to over 50% of annual GDP since 1961 (Figure 4). A resilient transportation supply chain is required across Canada
to capitalize on these economic opportunities. Unfortunately, due to increasing fuel and fuel tax costs, the COVID-19 pandemic and its rebound – which created wild swings in supply and demand – the impacts of climate change, and geopolitical uncertainty, the fluidity and efficiency of Canada's transportation supply chain has been significantly disrupted.
Figure 4: Trade as a percentage of GDP, Canada from 1960 to 2021
In 2021, the transportation & logistics industry experienced 5.5% growth in GDP, rebounding strongly from COVID-19 related challenges faced in 2020. Compared to the Canadian economy, which grew 3.8% in 2021, transportation & logistics services grew 1.4x more.
The transportation & logistics industry can be split further into eleven sub-sectors. Table 2 is a breakdown of the different sub-sectors within the transportation & logistics industry and some of their key stats.
E-commerce continues to be a key growth driver for the Canadian transportation & logistics industry
Overall, this sector has a positive outlook driven by an increase in e-commerce and online retail, and demand for same-day and last-mile delivery (getting goods from a warehouse to a customer's doorstep/ specific location).
Key trends
Key trends that growing businesses in the transportation & logistics industry should be aware of are:
Increased demand for same-day and last-mile delivery e-commerce and online retail Technology to improve efficiency and cost savings, including the increasing possibility of self-driving vehicles and drone delivery
Sustainability and eco-friendliness, including re-usable packaging or electric vehicle usage
Increased use of intermodal transportation for more efficient supply chain management with the goal of reducing overall cost energy usage, and emissions
E-commerce continues to be a driving force within the transportation & logistics market in Canada. Retail e-commerce sales increased 194% from January 2019 to November 2022 (~$1.5B to ~$4.4B, unadjusted for seasonality.
Bill Moretti, one of Westland's business development directors, added, "The reality is that consumer demand for goods has increased, despite rising inflation." He said, "Loadlink Technologies, the leading Canadian company that matches trucks with freight for shipping, reported the third highest January in 2023 in their nearly 35-year history." 
Figure 5: Monthly retail e-commerce sales, unadjusted for seasonality (x$1,000) from January 2019 to November 2022
Last-mile delivery continues to gain traction
As the final step in the delivery process, last-mile delivery is a process of providing faster, easier, and smoother delivery of products directly to consumers. Over recent years, last-mile delivery has gained traction due to changing consumer behaviours, lifestyle preferences, increased demand in online shopping/e-commerce, and demand for cost-effective door-to-door delivery. Last-mile delivery is used across a wide array of sectors, including e-commerce, fast-moving consumer goods (FMCG), retail, healthcare, and mail delivery. Advances in technology and further investment continue to drive the expansion of last-mile delivery services.
"Transportation companies should expect to be routinely providing certificates of insurance – we're seeing an uptick in requests from companies like Amazon, for instance," said Ben Stiller. "Businesses will want to work with an insurance brokerage that can turn around certificates accurately and efficiently."
Near-term challenges facing the Canadian transportation & logistics industry
There are still some challenges that must be overcome to make continued growth possible. Some of these challenges include:
Infrastructure constraints such as traffic congestion/ capacity, aging infrastructure, which increases the need for repairs or replacement, and a lack of interconnectivity and alternative fuel sources like electricity
Labour shortages
Trade uncertainty, which includes changing demand for goods produced in certain regions, fluctuating prices, and disrupted supply chains
Rising inflation, attracting and retaining drivers, increased cost of parts, equipment, facilitates and insurance premiums, including the cost of electronic logging devices, will continue to erode profitability for insurers and transportation clients alike.
Canada's road network faces many challenges
Infrastructure issues span the range of transportation modes and services. Canada's road network faces many challenges, including those due to the country's extensive land mass, harsh weather conditions, a high degree of urbanization, and dependence on trade. Ageing infrastructure magnifies some of these challenges and puts pressure on the government to invest in Canada's roads.
The need for infrastructure funding conflicts with limited public funding. The stifling effects of the recent recession, financial crises, and inflation among heavily indebted governments at all levels have contributed to a financial-risk-averse environment. These challenges have implications for major initiatives such as developing Canada's North.
Perhaps one of the biggest challenges with Canada's road network infrastructure has to do with the logistics of power delivery for impending federal regulations around electric or low-emission vehicle requirements. Rod Stiller, President of National Truck League, a Westland company, acknowledges that "Federal fuel emission reduction targets are so high that they may become stifling for companies that would need to invest in low-emission vehicles." He continues, "they need to adapt to new realities when faced with recharging requirements or accessing different fuels less common in parts of the country, particularly if moving freight in remote areas."
Border crossing wait times appear to be improving
While ageing infrastructure often results in operating inefficiencies and bottlenecks for transportation companies, it appears that border crossings at the Canada-US border have become more efficient in recent months. This might be, in part, due to the reduced documentation required to show evidence
of vaccinations at the US border – a requirement that ended in May of 2023. Non-US citizens were only officially allowed to travel to the United States if they could prove that they were vaccinated against COVID-19. With this requirement ending in May 2023, this may have helped the truck drivers crossing back and forth between Canada and the US. By analyzing 15 border crossings (cross-referenced in the below figure), we can see that, on average, the median wait time was reduced by 8% from November 2021 to November 2022. Similarly, only 4/15 border crossings had a longer wait time in November 2022 than the historical three-year average (November 2019 to November 2021.)
Figure 6: Border crossing median wait time (minutes) for the month at major crossings across Canada, November 2019-22
Labour shortages are expected to continue to challenge transportation & logistics businesses in the near term.
According to a study by Mordor Intelligence, the Canadian economy "heavily depends on the transportation and warehousing industry. It contributed 3.6% of Canada's GDP in 2021 and employed more than 5.2% of its workforce. Trucking transportation is the most frequently used mode of transportation in Canada's transportation and warehousing GDP sector. It makes up more than 28% of the industry."
Per Statistics Canada data, there are 35,464 employers in General Freight Trucking and 15,027 employers in Specialized Freight Trucking across Canada.
Transportation & logistics labour supply
Trucking HR Canada is a national non-profit organization that aims to advance modern HR solutions for the trucking and logistics workforce. One of Trucking HR Canada's top strategic priorities is to help meet the industry's HR challenges by providing labour market information. In 2022, Trucking HR Canada identified that "total employment in trucking and logistics during 2022 was 737,000 workers, down from 755,000 in 2021 but still well above the 10-year average of 705,000 (2013 to 2022). The sector's unemployment rate averaged 3.2% in 2022, down from 4.5% in 2021. These numbers indicate that the labour supply in trucking and logistics shrank by 3.7%, down by over 29,000 workers from 2021."
There are multiple job types across the trucking industry that continue to see labour shortages, from drivers to dispatch workers. Trucking HR Canada notes that "with total demand for drivers up by 31,695 driver jobs to 339,500 in Q3 2022, the labour supply in the occupation also increased, albeit by a slower rate. The estimated total supply of truck drivers in Q3 of 2022 was 319,300, up 26,400 workers from the second quarter. As a result, the driver shortage increased sharply in the third quarter of 2022 to a gap between demand and supply of some 20,200 workers, up 79% over the same quarter in 2021."17
This increased demand for truck drivers is likely due to changing consumer preferences like same-day delivery or online shopping. The increase in these demands causes retailers to ship more products, and therefore, more transportation of those goods is necessary. Some recruitment and retention methods transportation companies are utilizing include increased wages, perks, and benefits, as well as emphasizing their commitment to safety and diversity.
Rod Stiller noted changes in the industry's hiring practices. "Companies are sometimes forced to hire drivers with as little as one year of experience. This isn't popular with the best insurance companies." He said, "We've started to see inferior insurance coverage being offered through specialty programs in Ontario and are designed to accommodate these challenges and avoid using the facility." He cautions, "This coverage is designed for a high-risk market and is more expensive. Transportation companies need to be certain their broker is not building insurance programs with these markets because they limit coverage and increase costs."
Figure 7: Labour supply, demand and shortage – Transport truck drivers (NOC7511), Canada, 2021-2022
Among other key occupations, Trucking HR Canada estimates labour shortages as reflected in the below table. "The number of vacancies for shippers and receivers and for delivery and courier service drivers rose between Q2 and Q3 of 2022 by 660 vacancies and 1,110 vacancies respectively, while the number of vacant dispatcher jobs fell by 195 positions in Q3. As a result, the shortages seen earlier in 2022 persisted through the third quarter." Figure 8 is an estimate of labour shortages, selected key occupations, trucking and logistics sector in Q3 2022.
The Canadian transportation & logistics industry continues to evolve amidst changing market dynamics and emerging trends. While it faces challenges, such as rising costs, labour shortages, and infrastructure constraints, the industry's outlook remains positive. The growth of e-commerce and increasing demand for efficient last-mile delivery services present opportunities for businesses in this sector. It is crucial for industry players to adapt to these trends, invest in technology, and prioritize sustainability to thrive in a competitive landscape. Government support and regulatory responses are also essential to strengthen Canada's transportation supply chain and ensure its resilience in the face of future disruptions.
Visit our transportation & logistics insurance page to learn more.
Connect with us to review your current insurance policies, discuss your unique risks and operations, and find the perfect insurance policy for your business.