Business Insurance – British Columbia
As a business owner or manager in British Columbia, you wear many hats. Through a comprehensive review of your business operations, our team can help define your business insurance protection program. It's a holistic approach to building a risk and insurance portfolio that will help you accomplish your business goals.
Our expertise in business insurance is your resource to ensure your business is well protected. We can help maximize the effectiveness of insurance by connecting you to the right products at the right price.
Get Insurance
Commercial insurance that goes further
We're committed to going one step further for our commercial insurance clients in British Columbia. Whether you're seeking a small business insurance policy that checks all the boxes, or require a sophisticated solution to manage complex risk, choose Westland and experience coverage that goes further.

Ease & convenience
We make it easy for you to access the best insurance solutions for your business, and we're always there for you when you need us

Best value
We leverage our network of insurers to provide you with peace of mind that you're receiving the best coverage, at the right price

Experience & expertise
We make it easy for you to access the best insurance solutions for your business, and we're always there for you when you need us

Access to markets
Our access to national and international insurance capacity guarantees world-class protection, tailored to meet your needs

Claims
If you experience a loss, we'll be there for you. Westland has a dedicated claims department providing unrivaled expertise and advocacy

Community
We're committed to giving back. Our Amplifying Communities initiative supports community projects across BC and all of Canada
Dealing with complex risk? Learn about Corporate Advisory & Specialty
Corporate Advisory & Specialty serves our complex risk commercial clients. Our CA&S business consultants will help you identify and quantify risk, determine your risk appetite, and structure cost-effective risk transfer and mitigation programs.
Explore our commercial insurance products and industries of expertise in British Columbia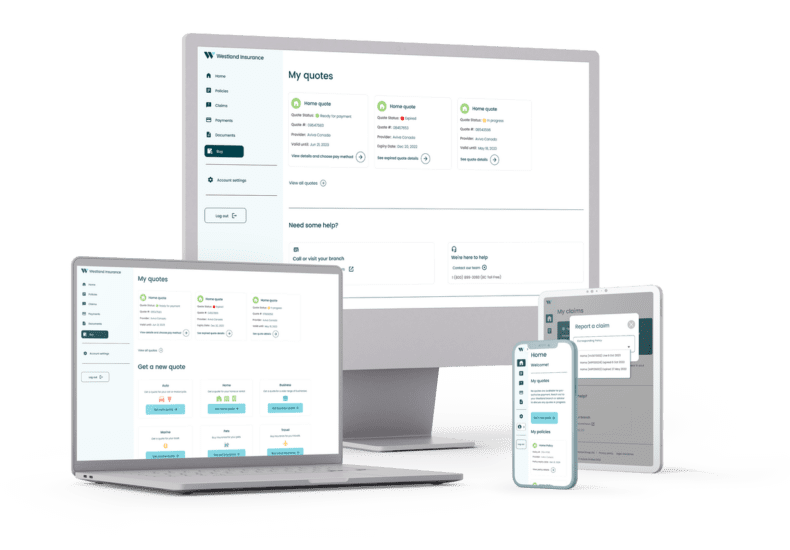 MyWestland makes accessing your information easy!
Easily access your policy information and manage your account
Report a claim and upload photos
Check your claims status anytime
View your policy details, including coverage and payment information
Easy online payment options (pay now or pay monthly)
Contact your advisor directly
Need some help?
Claims
We'll help you get back to normal as quickly as possible.
Claims
Contact Us
When you need us, we're here. Connect with us.
Contact Us
Visit Client Support
Check out our resources page for helpful content or connect with our client support team.
Contact Client Support